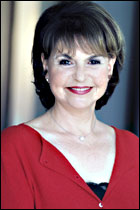 Few people have helped change as many lives as much-loved author and leading self-help authority Susan Jeffers, Ph.D., who first captured the world's heart with her acclaimed book Feel the Fear and Do It Anyway.

Sales of Susan's numerous best-selling works are in the millions, reaching more than 100 countries and translated into over 35 languages. A renowned workshop leader and celebrated speaker, Susan has appeared on Oprah, Montel, the Michael Jackson Show and many other radio and television shows both nationally and internationally.

In the fall of 2004, the Times of the U.K. named Susan "the Queen of Self-Help" ranking her alongside such influential leaders as Nelson Mandela, the Dalai Lama and Deepak Chopra. Just two years prior, the popular spiritual consciousness magazine Kindred Spirit gave Susan the award for Best Personal Development Book of the year.

Susan is particularly known for her teachings on overcoming fear, healing relationships, and moving forward in life with self-confidence, joy and love. Filled with practical tools, sensitivity, humor and wisdom, Susan's 17 titles to-date include Feel the Fear and Beyond, End the Struggle and Dance with Life, Embracing Uncertainty, Opening Our Hearts to Men, The Little Book of Confidence, The Little Book of Peace of Mind, I Can Handle It! (a manual for young children) and Life is Huge! Susan has also authored a Fear-less series of affirmation books and tapes.

Susan's warmth and humor, her acute insight, her humanness and an ongoing willingness to share openly from her own life all combine to create an exceptionally profound relationship between Susan and her readers. Reflecting on this powerful connection, Gloria Steinman has said "…Susan's books save lives."

Susan's popular website (www.susanjeffers.com) is widely visited for her daily affirmation and her monthly article. She recently launched a new company, Jeffers Press, in order to publish her own books and those of other inspirational writers. All Susan's books, audio programs and inspirational products and gifts (including candles, apparel, jewelry, greetings cards and coffee mugs) can be found on her site.

Susan received her master's degree and doctorate in psychology from Columbia University. She lives in Los Angeles, California with her husband, Mark Shelmerdine.